advice and consultation
ADVICE AND CONSULTATION Knowing the needs of our customers will help us choose the best solutions for them. With your cooperation, we participate in the work-study and design of specific projects.During larger initiatives, we help to coordinate all involved contractors.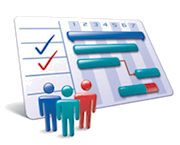 Advisory services are an "independent" part of our activity. Additionally, during these larger projects/initiatives we will usually, where necessary, support any external experts. The estimated cost of such services is dependent on the expected range of skills of our expert, and the time of their involvement.
Selected prior projects/involvements can be found here.
We support clients associated with our fixed contracts for IT care and advise, by:

Optimizing and monitoring system performance entrusted to us. In anticipation of showing our customers the necessity of their investment. We recommend the use of our technology to facilitate the scaling of performance and we will assist in their implementation.

Together with our customers, we plan developments in hardware and software infrastructure, so as to maintain an acceptable price per performance rate, both in the implementation and maintenance phases.

At the feasibility studies stage for new projects we help "translate" expectations to a solution. In the implementation phase, we support our customers by monitoring the work of contractors, and coordinating the efforts to properly implement the whole system.

The ability to electronically exchange data with the systems of suppliers or contractors is now one of the key competitive advantages. We help our clients implement and operate systems in accordance with EDI, EDI++, XML.

Automate the flow of information between companies operating in the different systems allows better "embrace" the business processes. We help our customers to integrate with each F-A, e-commerce and warehouse systems.